You won't see much fireworks here except for maybe a snake or some caps.
We've got half of a strange year in the books. For all the economic drama, returns on most U.S.-stock funds are rather tightly bunched around the mid-single digits with one happy exception. Sorry, no fireworks here. This seems like a good time then to take a look at how the largest actively managed stock funds have fared so far.
While I think it's quite useful to understand what happened at these funds, you don't want to lose perspective. The surest way to wreck a portfolio is to make decisions based on short-term performance. You judge a manager by his entire record, not six months. So, I hope this helps you to understand what's happening, but keep in mind that it's your emotions telling you that the short term should count for more than the long term, but all evidence suggests that the long term is what matters. Please read the analyses to get our take on whether each fund is a worthy investment.
A quick look at our category performance table shows us what has done best and worst so far. Health care, real estate, and utilities were the best sectors, while financials, natural resources, and technology were duds. By the Morningstar Style Box, small growth and mid-growth fared the best, while small value and large growth were the mutts.
Overall, the first half wasn't all that glorious for our 10 giants. Three were in the top quartile, but one was in the bottom quartile, and two were just barely above it.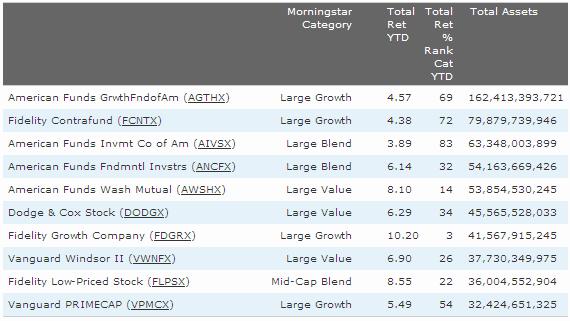 1. American Funds Growth Fund of America AGTHX 4.6% return, 69% percentile rank (1 = best and 100 = worst)
A sizable overweighting of financials such as Citigroup C and Wells Fargo WFC has led to a sluggish first half for the biggest actively managed stock fund. Nor has it helped that it has Google GOOG and Microsoft MSFT among its top holdings. The fund has nine managers, plus it hands a stake to the firm's analysts. So, for a stock to make it into the top holdings, at least a couple managers would have to be on board.
As a side note, many shareholders are voting with their feet as this fund's $9.5 billion in year-to-date outflows is the largest of any fund.